JMHS Alumni Association Mission
The Mission of the James Madison Alumni Association is to foster social and fraternal relationships among graduates of JMHS and, in keeping with the school's high ideals of scholarship and citizenship, to support and enhance the educational opportunities of current and future students
Adopt-a-Chair
Having your name and class year on an auditorium chair or naming a chair In Honor Of or In Memory Of a beloved Madisonian is a wonderful way to create a legacy and support our school. For a $100 tax-deductible donation to the JMHS Alumni Association, a nameplate will be permanently affixed to a chair in Madison's auditorium.
Become a Member
Find out about our organization, mission, events, reunions, and the many ways that you can get involved
Join Us →
DoNATE
Show your appreciation for your Madison experience by giving generously to support Madison's programs today.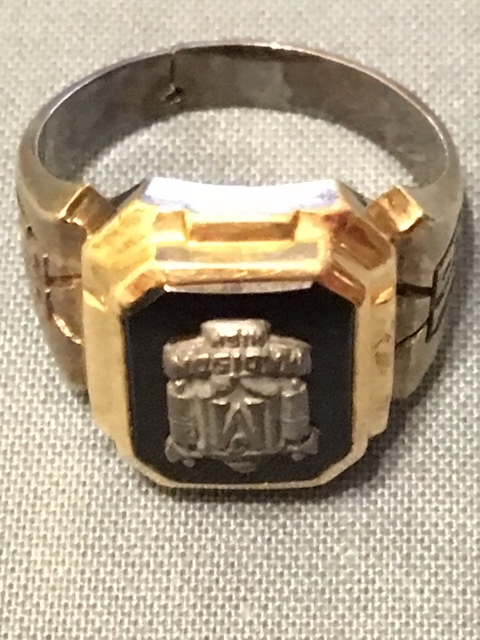 Mystery of the Ring – Madison Version
A resident of Lake Ronkonkoma, NY contacted President Marty Alpert last fall. He found a Madison ring on the beach. It's a boy's ring, Class of 1956, initials inside seem to be RMK but could be RMH. This very nice man sent this to us and we are holding on to it until claimed. It's in our hands right now but in the Spring, we will place it in the Alumni Memorabilia Room at Madison, on display. If you think this is your ring or that of someone you know, please contact Marty at admin@jamesmadisonalumni.org.
Wall Nominations
To make a nomination for Madison's Wall of Distinction, follow the link to the Wall nomintation for on the center of the page HERE
UPCOMING EVENTS: For more information about upcoming and future events, contact Marcia Levy
Visit our Facebook page at The Official Facebook Page of James Madison Alumni Association